Body paragraph
Home page setup
The home page consists of a number of elements. It can include:
A home page hero image with accompanying text about your organization and a link to your About page.
The latest four articles that have been promoted to the home page.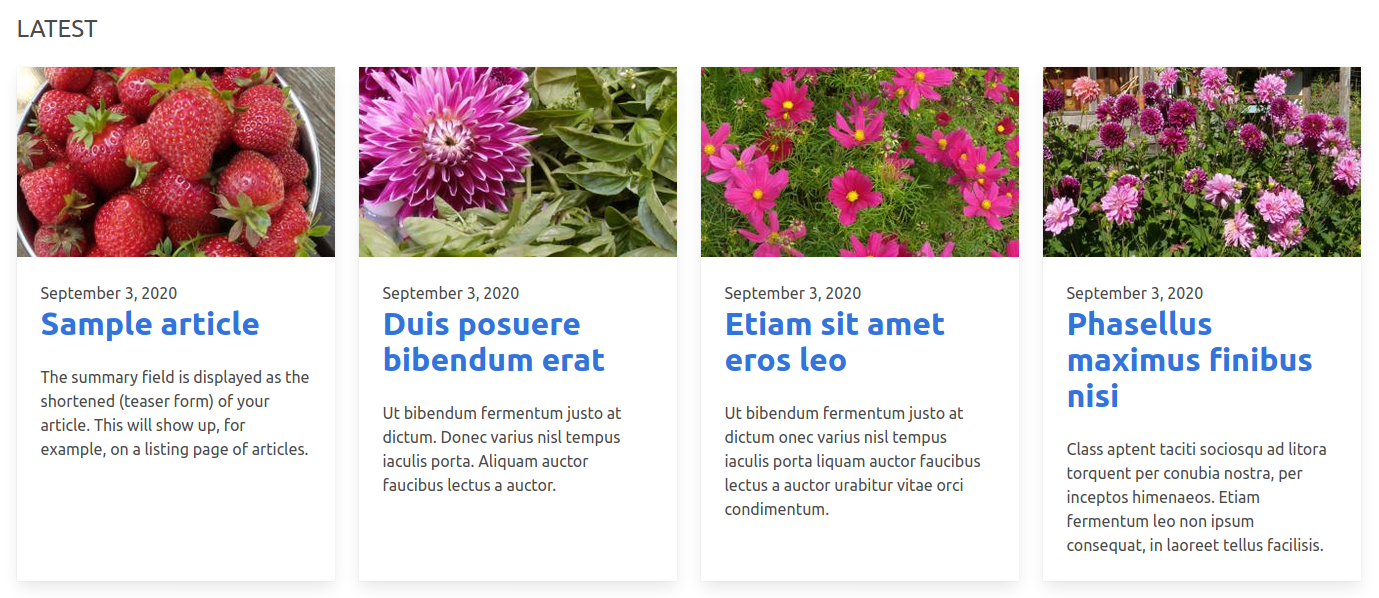 The latest four actions that have been promoted to the home page.
A home page featured block with an image, text and link to any page on your site.
The latest four resources that have been promoted to the home page.
The latest four blog posts that have been promoted to the home page.
The latest four campaigns that have been promoted to the home page.
Three custom blocks that appear at the bottom of the page and can link to any internal or external page.

If your site does not have a particular feature enabled or there is no content of that type, the block will not appear.
You can also disable "promoted to the home page" blocks disabling those you do not want to appear via the main blocks interface, Structure > Block layout (admin/structure/block).
Editing the home page blocks
There are five custom blocks that appear on the home page (two wide slides, and three smaller ones), each containing an image, some text and a link.
The easiest way to edit is to use the edit tool (with a pencil icon) that appears when you hover over the top right-hand corner. Click the edit button and then select Edit.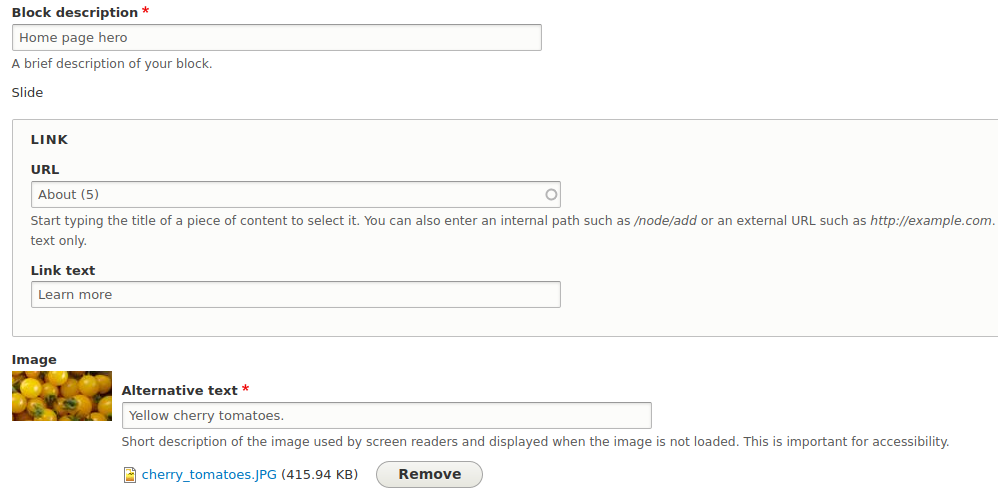 Start by typing in the page on the site you want your home page block to lead to. For the home page hero block (at the top) this will likely be an "About" page. For the other home page block, it can be to any page that you are featuring.
You can also edit the Link text (which by default will read "Learn more."
Remove the default image and upload your own image. Ideally the images for the homepage block should be 1500px by 750px. You will need to take care in selecting the images for these blocks.
Edit the text that will appear over the image. This should be one or two sentences.
Save your changes.
Visit the home page to see how your new block looks. It is very likely that you will need to make further changes to ensure the text is visible with the image you have selected and not too long.
The three bottom region blocks can be edited in a similar way, but for these it is the link text that will appear as in a title and the text should be extremely brief.